As I prepare this blog post about the Rohingya refugee crisis in Bangladesh, I'm sitting at a five-story Starbucks in Kadıköy, a liberal bastion in an increasingly conservative Istanbul, surrounded by hundreds of people and thousands of dollars worth of coffee and lattes. This is a city, and coffee chain, where I sometimes reflect at the end of a long journey.
And thanks to earbuds connecting my laptop and head, I'm listening to Milligan College's annual Christmas concert, which I attended and recorded last year in Tennessee. One of the songs so beautifully sung by the choir — "What Child Is This?" — stands out now. The song is about Jesus, newborn and sleeping on Mary's lap, but as I look at the picture above, of Boshara resting in her mother's lap in the scorching heat of a refugee camp in a distant corner of Bangladesh, the song's opening question — what child is this? — is recast.
What child is this? This is Boshara, age two months, daughter of 31-year-old Halayda. They are a Rohingya Muslim family who recently fled government-sanctioned violence in Myanmar (Burma). Many organizations, like Human Rights Watch, describe the violence as ethnic cleansing.
At the start of 2017, around one million Rohingyas lived in Myanmar, specifically in Rakhine State, but in a two-month period beginning on August 25 more than 600,000 fled to refugee camps in Bangladesh. Most are children, and an estimated one out of five is acutely malnourished. The desperate migration is continuing still, making it the world's fastest growing refugee crisis. It is also a heavy strain on the host country, Bangladesh.
What child is this? Like Jesus, Boshara was born in a global backwater, far from the world's power centers — the kind of place easy to overlook, even belittle, when you live in Rome. But whereas the parents of Jesus are said to have gone to Bethlehem to participate in a Roman census, the government of Myanmar excluded Boshara's parents and all others who call themselves Rohingya from its 2014 census. Though the Rohingya have lived in Myanmar for generations, they are not considered citizens by the government, rendering them stateless.
It's a vulnerable position to be in, even in the best of times, even before you flee for your lives to Bangladesh.
What child is this? One whose community knows that stories of shocking cruelty didn't stop with King Herod. After the birth of Jesus, King Herod is said to have ordered the execution of children in order to protect his own power. In A.D. 2017, Rohingya infants have been pulled from their mothers and tossed into fire. Men have been executed. Women have been raped, and then executed.
The primal quest for survival that animated Mary and Joseph's flight to Egypt has also driven Boshara's family, and all the people pictured below, to Bangladesh.
And so, in looking at Boshara in her mother's arms while listening to the Milligan College choir sing "What Child Is This?", it is hard not to consider the relationship between the Christmas story and events in Myanmar and Bangladesh today: a vulnerable child, born to a marginalized people and into a violent world, cradled by a loving mother.
Turning over in one's head the question What child is this?, a second, related question emerges: What am I? By this I mean what am I in relation to this child, to events that happen on the far side of the world.
Part of the answer, of course, is I am a neighbor. But what does that mean? Something to consider in the weeks ahead as many of us begin to sing Christmas songs, and as Rohingya children struggle in the tarp-field camps suddenly spread out on Bangladesh's hillsides.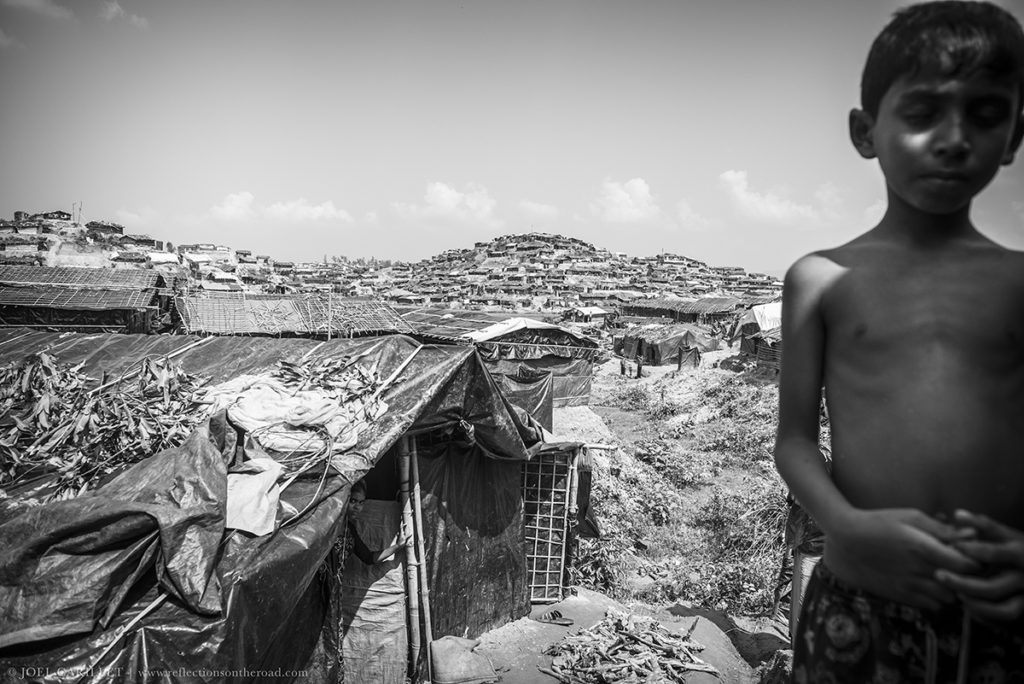 A Rohingya boy in Jamtoli refugee camp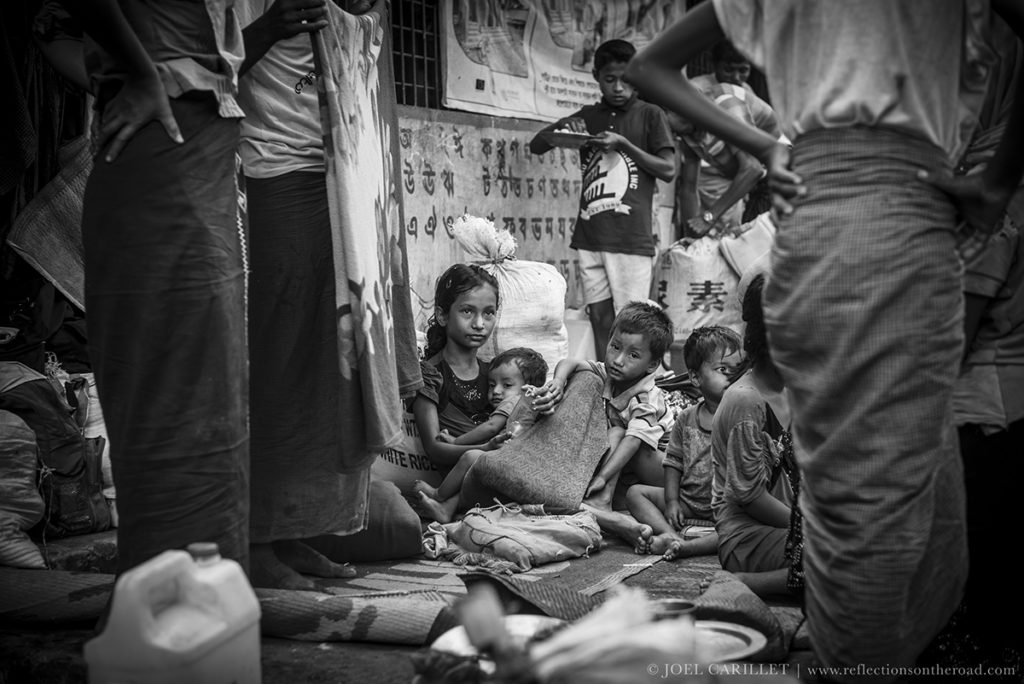 Habiba, age 10, holds Sofuan, age 11 months, in Kutupalong refugee camp. They had just arrived from Myanmar.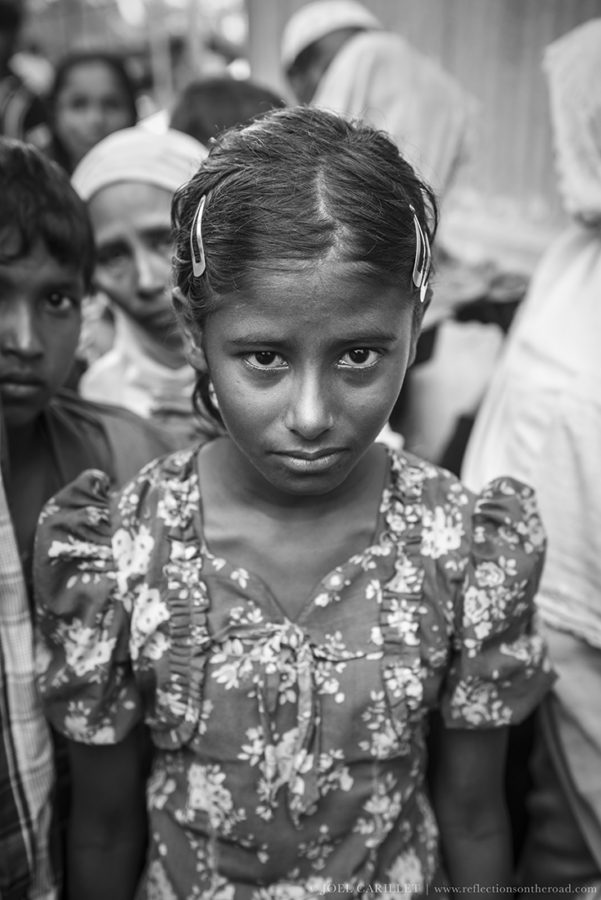 Sakera, age 11. Several weeks before I met her, Sakera's father was shot and killed in Burma.
When you sit for some minutes with people like Sakera and her neighbors, freshly arrived at Kutupalong refugee camp after a 17-day walk from their village in Myanmar to the Bangladesh border, and through a translator you ask their story, and then they tell you, tears quickly welling up in their eyes as they speak, you want to embrace them in a way you've seldom wanted to embrace people. But instead, you say "I'm so sorry," and for a moment you allow your tears to join with theirs — another way to embrace, I suppose — before moving on to other stories in this landscape overflowing with trauma.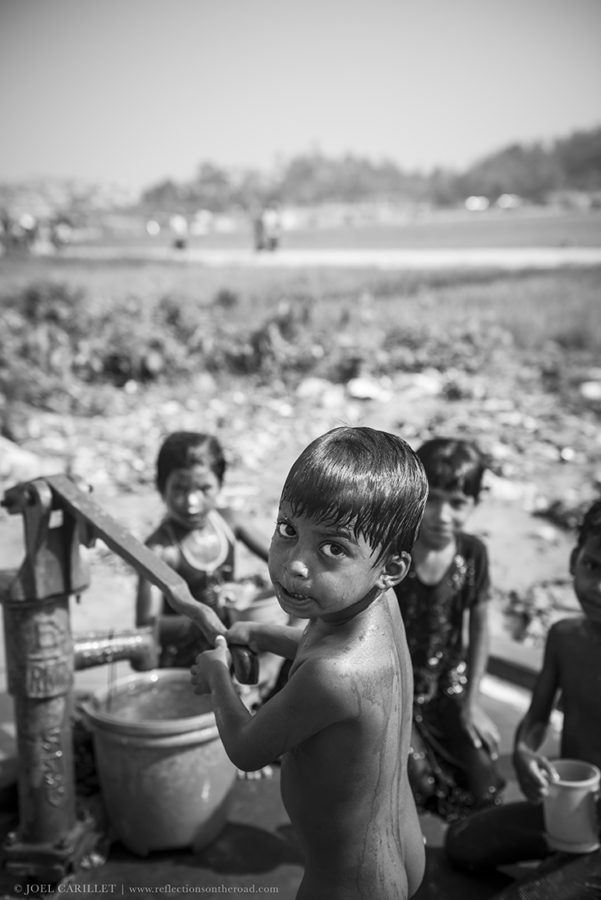 Girl at a well in Jamtoli refugee camp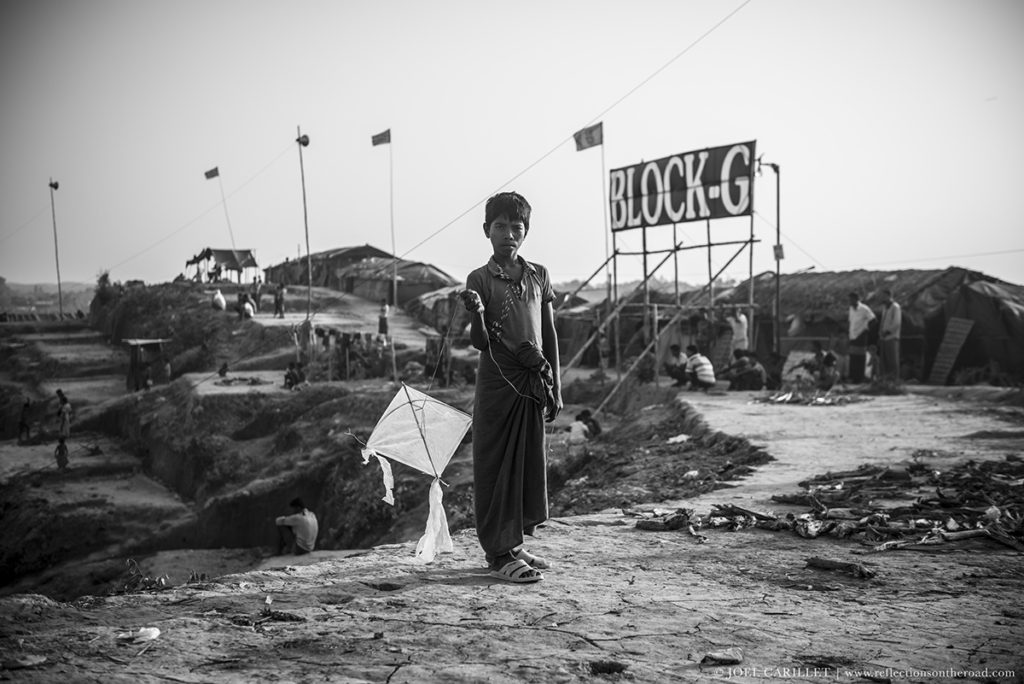 Boy with a kite in Jamtoli refugee camp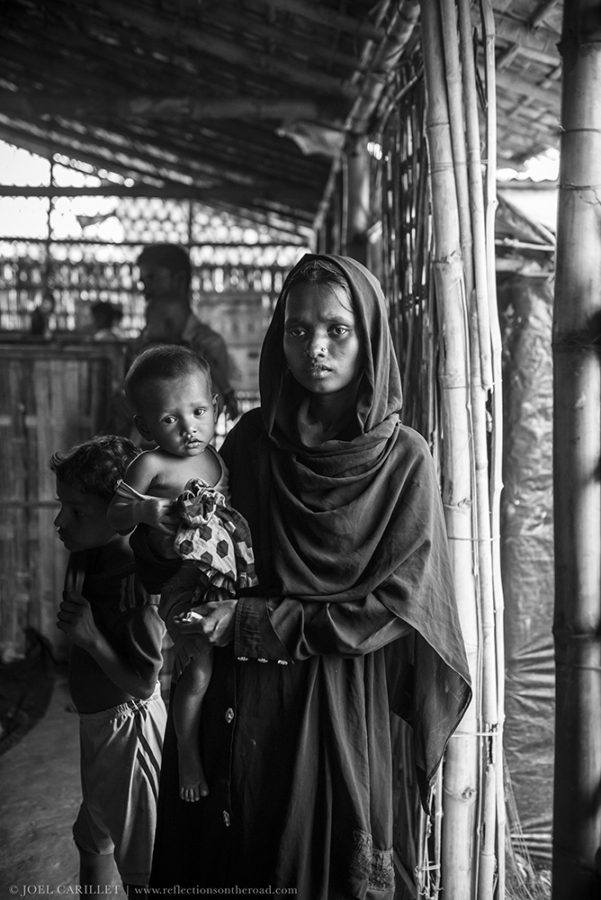 Sabika, age 8 months, with her mom, Rahima, age 23, at a Concern Worldwide/UNICEF clinic for severe acute malnutrition (SAM) in Jamtoli refugee camp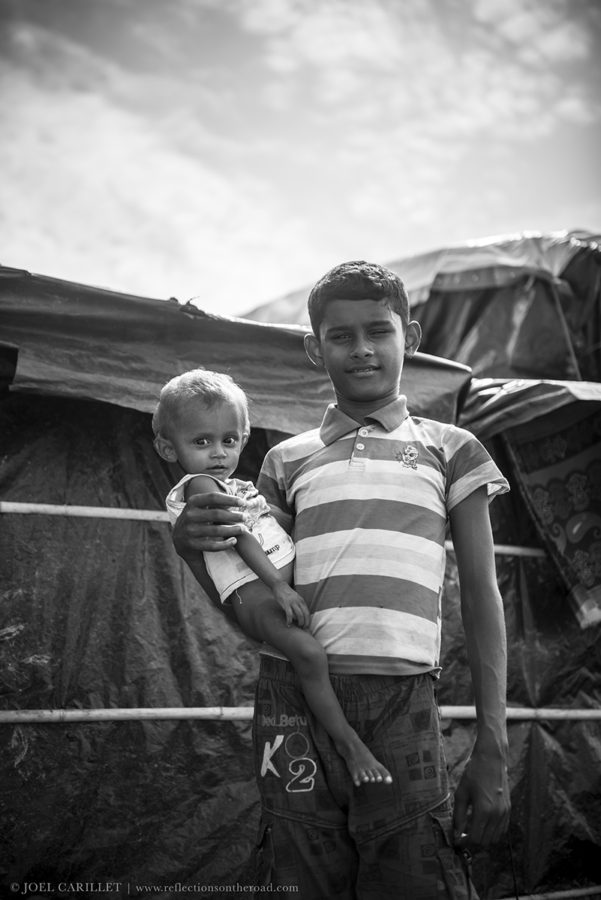 Md Saat, age one-and-a-half, is held by his 13-year-old brother, Md Afsar. They and four other siblings live in Balukhali refugee camp.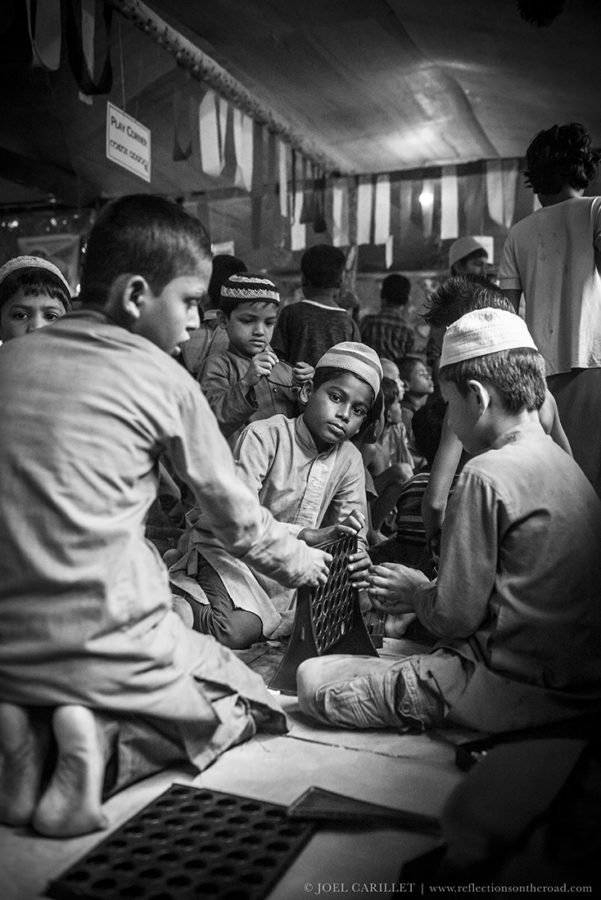 Rohingya children at a CFS (Child Friendly Space) in Shamlapur refugee camp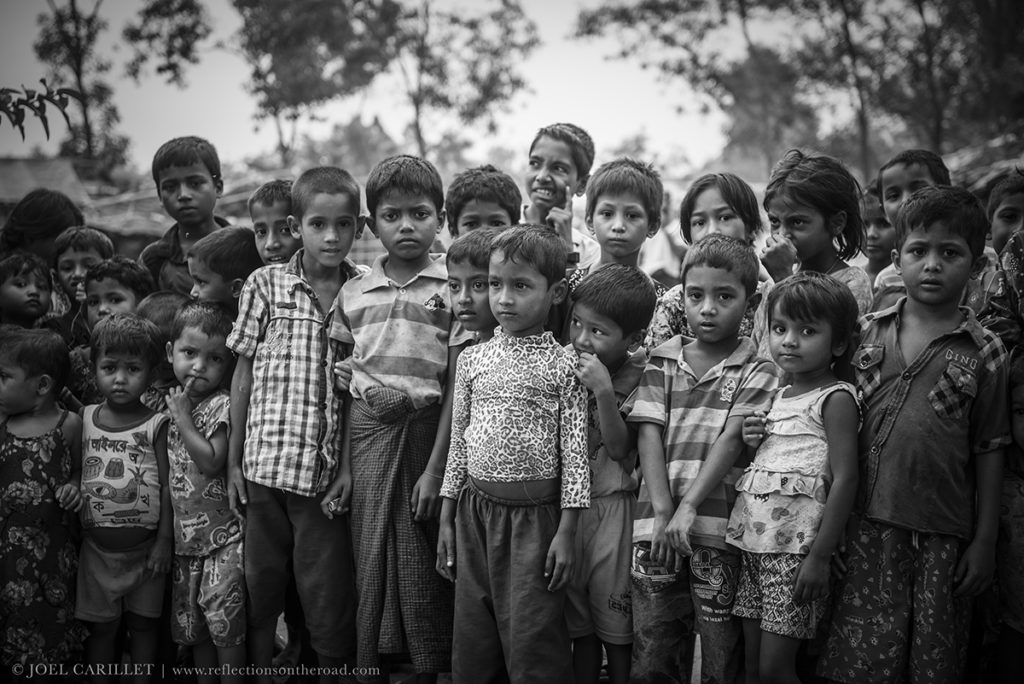 When walking through Kutupalong refugee camp, the number of kids following me grew so large that for a while it became difficult to get a picture that didn't include several kids looking into the lens. And so we stopped for an organized group picture.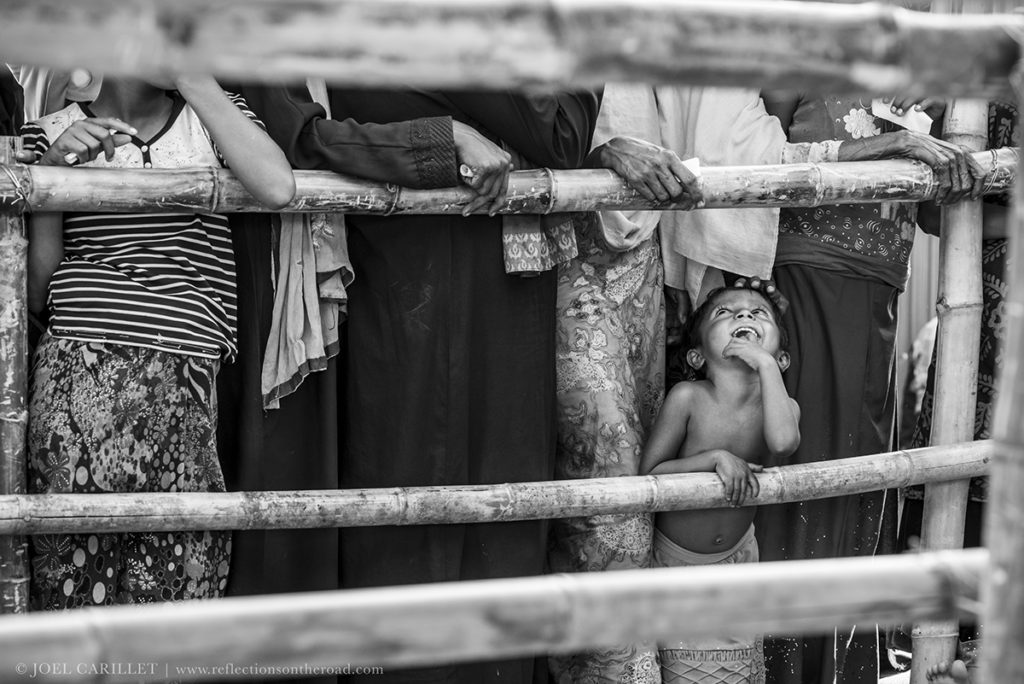 Three-year-old Shehena, as cute as can be and who I couldn't help but take about 30 photos of before walking over to ask her name, waits in line with her mom and other women for a humanitarian aid distribution in Jamtoli refugee camp.
For more information:
And for Brad Paisley singing "What Child Is This?": https://youtu.be/JDD3N7G6Qqw